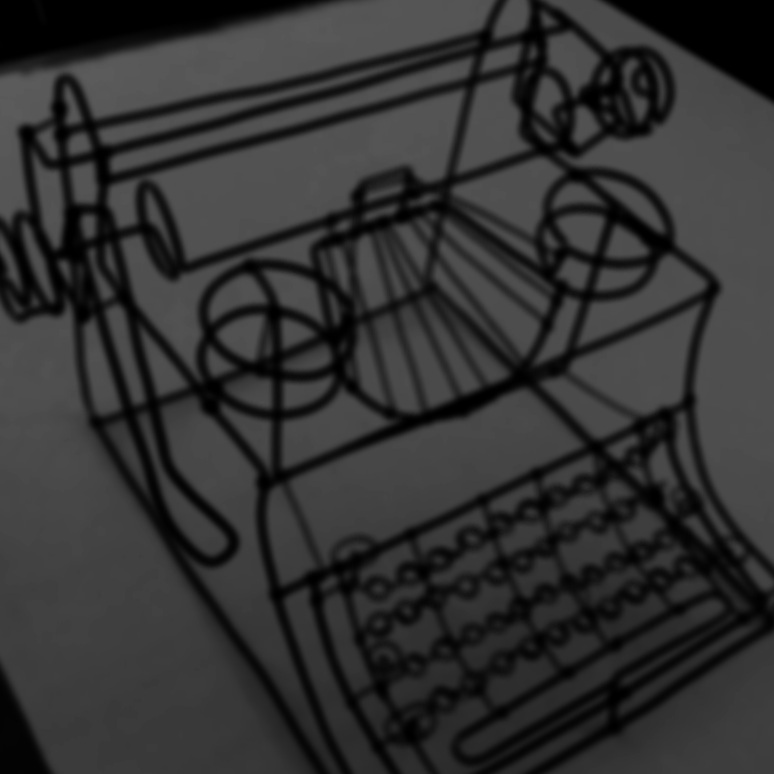 My roots, artistically, are in folk art. With little exposure to art in school, my first sculptures were crude depictions of animal and figurative subjects fashioned with wire and pliers. This low-tech but spontaneous execution has been a hallmark of my work for the past 40 years
BIO
Born in 1953, Michael Van Hout is an artist living and working in Wilmington, NC. His materials range from wood to wire, his genres from printmaking to mobiles. While Van Hout is celebrated for his for larger-than-life installations—like his shimmering fish at the NC Aquarium at Fort Fisher—he prefers the minimal. Van Hout mostly works with just his hands, pliers and wire, fashioning whimsical animal and figurative subjects into sculptures that photograph more like paired-down line drawings than 3D metal objects.
Van Hout's has been working with wire since he was in his early 20s—he was bending pine straw bale scraps into creatures long before he was influenced by the modernist sculptures of Pablo Picasso and Alexander Calder. After studying forestry at North Carolina State University, it was this sustained curiosity that led Van Hout back to school to pursue a BFA in sculpture from the University of North Carolina at Greensboro in 1980. There, Van Hout discovered Picasso's Cubist Guitar. It was a revelation for him. Using an assemblage of rusty tin and wire, here was a complex and fascinating examination of a simple object, reduced to its elemental form.
Today, Van Hout has made a full-time career out of his shaped wire and metalwork. A 20-plus year ACME Art Studios denizen, Van Hout works and exhibits out of the space in the Brooklyn Arts District of downtown Wilmington. He has exhibited solo at the Cameron Art Museum and has completed permanent installations at UNC Wilmington, Airlie Gardens and a number of other public and private institutions. In 2017, Van Hout completed a three-dimensional metal sign for Foxes Boxes Restaurant at 622 N. Fourth Street and art for a historic shirt factory recently converted into apartments. The art includes wire sculpture in a pocket garden and a mural covering the entire wall of the entrance to South Front Apartments, 1510 S. Third Street in Wilmington, NC.
Van Hout has contributed to the community through his work with DREAMS of Wilmington, Cameron Art Museum and Leading Into New Communities (LINC). He currently lives in Wilmington, NC with his wife, Marlisa, a mental health therapist.
CV
EDUCATION
B.F.A. Sculpture, University of North Carolina, Greensboro 1980
TEACHING
2010-2017 The Museum School at the Louise Wells Cameron Art Museum - Printmaking and Sculpture
2008-2009 DREAMS Center for Arts Education, Wilmington, NC -- Printmaking and Public Art
1982 Artists in the School Program, Sponsored by Greenhill Gallery
EXHIBITIONS
2017 "Sibs," Art in Bloom Gallery, Wilmington, NC
2015 Big Block Printmaking, University of North Carolina at Wilmington
Galimotos, ACME Art Studios, Wilmington, NC
Giraffe Installation (in collaboration with the University of North Carolina at Greensboro)
2014 One Man Show, 621N4TH Gallery, Wilmington, NC
Sculpture, No Boundaries Art Colony, Wilma Daniels Gallery, Wilmington, NC
2013 Painting & Printmaking, No Boundaries Art Colony, Wilma Daniels Gallery, Wilmington, NC
2011 Wire Musicians, ACME Art Studios, Wilmington, NC
2010 "Kaleidoscope," Works from the Permanent Collection, Louise Wells Cameron Art Museum, Wilmington, NC
2009 No Boundaries Art Colony, ACME Art Studios, Wilmington, NC
Reliefs & Monoprints, ACME Art Studios, Wilmington, NC
2004 Giraffes & Zebras, Wire Sculpture, Louise Wells Cameron Art Museum, Wilmington, NC
1997 Metal Sculptures, Somerhill Gallery, Chapel Hill, NC
1990 "Interiors & Cityscapes," Jennifer Moore Gallery, Greensboro, NC
1989 "Cityscapes," New Elements Gallery, Wilmington, NC
1987 Aquarium Installation, St. John's Museum of Art, Wilmington, NC
1986 "The Printed Image," Artists in the Schools Spotlight
1980-1987 "What is Real?" Winter Show, Greenhill Gallery, NC
COLLECTIONS
Schooling Herring, North Carolina Aquarium at Pine Knoll Shores

Circus Posters, Wilmington Children's Museum, Wilmington, NC

Minnie Evans Sculpture Garden, Contributing Artist, Airlie Gardens, Wilmington, NC

Fish Grouping, Main Branch, New Hanover County Public Library, NC

Schooling Bluefish, UNC Wilmington Marine Science Center, NC

Tangs & Porkfish, Northeast Branch, New Hanover County Public Library, NC

Schooling Mackerels, North Carolina Aquarium at Fort Fisher, NC

Schooling Herring, North Carolina Aquarium at Fort Fisher, NC

Fish Grouping, Myrtle Grove Branch, New Hanover County Public Library, NC

Aquarium Installation, Pine Knoll Shores Aquarium, Pine Knoll, NC

Solar System Mobile, Trinity Wellness Center, Wilmington, NC

Galapagos Turtle, Ligon Flynn Architects, Wilmington, NC

Map of World, Forest Hills Elementary, Wilmington, NC

Tree of Knowledge, Winter Park Elementary, Wilmington, NC